Loki Software, Inc.
Overview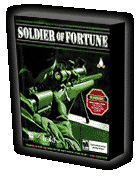 For a wad of bucks, you'll do the job -- no cares, no worries. Just get the gun, play for keeps, get paid, on to the next one -- that's your life. That's what you do. And you're good at it, one of the best even. But now is the time for your biggest ever challenge...
Prime yourself for explosive action with Soldier of Fortune for Linux! In this high-octane shoot-em-up, you'll need to be on your toes and have the ammo ready to face the carnage awaiting you. You'll be wanting to strap on an extra layer of Kevlar for this little jaunt...
And best of all, it's for Linux -- heavy weapons meets the firepower of your favorite operating system!
Minimum System Requirements
Linux Kernel
2.2.x and glibc-2.1
Processor
Pentium II with 3D accelerator card
Video
Video card capable of 640x480 resolution; XFree86 version 3.3.5 or newer; 16-bit color
RAM
32 MB required; 64 MB recommended
Sound
OSS compatible sound card
Hard disk
Minimum 150 MB free space

Products | Order | Resellers | Support | Development | Press | News | About Loki
© 2000 Loki Software, Inc. | Contact Us | Webmaster
Loki is a registered trademark of Loki Software, Inc.
Note: This site currently only fully supports Netscape Navigator 4.x or Internet Explorer 4.x or better. We will be adding support for other browsers shortly. We apologize for any inconvenience.