Loki Software, Inc.
Overview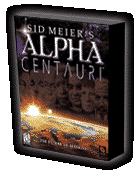 Leif Ericsson. Prince Henry the Navigator. Christopher Columbus. Captain James Cook. Roald Amundsen. Amelia Earhardt. Neil Armstrong. You?
Throughout the ages of humanity, the urge to explore new horizons has called upon our deepest instincts. Yet Earth now lies open, its every corner inhabited, every depth known like the lines of your hand. But time and technology have given you the chance the reach out for new, completely unexplored, uninhabited worlds to conquer, far from the bosom of old Mother Earth. It is time for humanity to leave its cradle...
Now Sid Meier's latest simulation and strategy adventure from Firaxis, Alpha Centauri, is coming to Linux, complete with the Planetary Pack expansion thanks to the efforts of Loki. This new adventure is sure to ensnare you in its web of intrigue and adventure. Set out for new, distant shores with strange suns never before beheld by the human race -- and perhaps undo the wrongs done on humanity's first planet by building your own Utopia, your own New World.
And best of all, it's here for Linux -- the excitement of distant centuries with the power of today's greatest operating system.
Minimum System Requirements
Linux Kernel
2.2.x and glibc-2.1
Processor
Pentium 133 MHz or faster
Video
XFree86 version 3.3.5 or newer; 16-bit color
CD-ROM
4x CD-ROM drive (600 KB/s sustained transfer rate)
RAM
16 MB required
Sound
OSS compatible sound card
Hard disk
90 (required) or 200 (recommended) MB free hard disk space plus space for saved games
Misc
Internet connection (for Internet play) ; Network card (for net play)

Products | Order | Resellers | Support | Development | Press | News | About Loki
© 2000 Loki Software, Inc. | Contact Us | Webmaster
Loki is a registered trademark of Loki Software, Inc.
Note: This site currently only fully supports Netscape Navigator 4.x or Internet Explorer 4.x or better. We will be adding support for other browsers shortly. We apologize for any inconvenience.