Loki Software, Inc.
Overview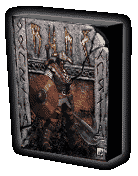 In a climactic battle between the gods of heaven and the monsters who dwelt deep in the earth, it was assumed that Loki would fulfill his fate and take up sides against the Asgardians. Of course, Loki was the bane of fate, and he had other plans ...
Rune is Human Head's third-person perspective game of intense action and adventure steeped in a blend of Norse mythology and high fantasy. Players will have to use their brains as well as their massive brawn to survive as they explore the fully 3D game world fighting off fantastic creatures from both Norse legend with an array of swords, axes and magical devices.
Now Shipping! Order now in the Loki Store!
Minimum System Requirements
Linux Kernel
2.2.x and glibc-2.1
Processor
300 MHz Pentium II or faster (500 MHz Pentium II processor recommended)
Video
8 MB Graphics Card ; XFree86 3.3.5 or higher (Glide), XFree86 4.x or higher (OpenGL®)
CD-ROM
8x CD-ROM drive (600 KB/s sustained transfer rate)
RAM
64 MB RAM minimum, 128 MB RAM recommended
(512 MB combined RAM and swap required)
Sound
16 bit Sound card ; OSS compatible
Hard disk
700 MB free hard disk space plus space for saved games

Products | Order | Support | Development | Press | News | About Loki
© 2000 Loki Software, Inc. | Contact Us | Webmaster
Loki is a registered trademark of Loki Software, Inc.
OpenGL is a registered trademark of Silicon Graphics, Inc.
Note: This site currently only fully supports Netscape Navigator 4.x or Internet Explorer 4.x or better. We will be adding support for other browsers shortly. We apologize for any inconvenience.