Loki Software, Inc.
Overview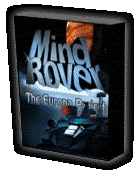 By day, you're a researcher on Jupiter's moon Europa. In your free time you re-program the rovers to race around the hallways, battle it out with mini lasers and rocket launchers, and find their way through mazes. It's all in a day's work.
Experience the future of strategy and puzzle gaming with CogniToy's MindRover for Linux! Overcome obstacles and navigate treacherous mazes by programming your robots -- and letting them run loose! Without direct control of your robots, you'll have to make sure that your planning is thorough and precise.
MindRover's challenging artificial intelligence programming will stretch your mind like never before.
Minimum system requirements
Linux Kernel
2.2

GNU C Libraries (glibc)
2.1.x

XFree86 Release
3.3.5

Processor
200 MHz x86 Processor (300 MHz or better is recommended)

Video Card
3D graphics accelerator with OpenGL® drivers (please see the list of supported cards).

RAM
32 MB

Sound
OSS compatible sound card

Hard Disk
70 MB free hard disk space
CD-ROM
4x CD-ROM drive

* Note: These system requirements are subject to change.

Products | Order | Support | Development | Press | News | About Loki
© 2000 Loki Software, Inc. | Contact Us | Webmaster
Loki is a registered trademark of Loki Software, Inc.
OpenGL is a registered trademark of Silicon Graphics, Inc.
Note: This site currently only fully supports Netscape Navigator 4.x or Internet Explorer 4.x or better. We will be adding support for other browsers shortly. We apologize for any inconvenience.