Loki Software, Inc.
Overview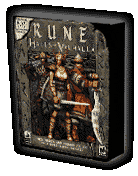 Two new gameplay modes. A horde of new characters. Thirty-three brand new maps. Improved combat system. New original music. Improved Internet play. What else could make a great game even better?
Rune: Halls of Valhalla, the official multiplayer expansion pack for the highly-acclaimed Rune, offers gamers the chance to go online and test their mettle against players from around the world. Please note that the original Rune for Linux is required to play this new pack.
You don't to wait to slay some more fearsome enemies, either -- Rune: Halls of Valhalla is now shipping for Linux!
* Note: Rune: Halls of Valhalla is a standalone game from Rune, but the original Rune is required to play the expansion pack.
Minimum System Requirements
Linux Kernel
2.2.x and glibc-2.1
Processor
300 MHz Pentium II or faster (500 MHz Pentium II processor recommended)
Video
8 MB Graphics Card ; XFree86 3.3.5 or higher (Glide), XFree86 4.x or higher (OpenGL®)
CD-ROM
8x CD-ROM drive (600 KB/s sustained transfer rate)
RAM
64 MB RAM minimum, 128 MB RAM recommended
(512 MB combined RAM and swap required)
Sound
16 bit Sound card ; OSS compatible
Hard disk
700 MB free hard disk space plus space for saved games
Software
Requires original Rune to play

Products | Order | Support | Development | Press | News | About Loki
© 2000 Loki Software, Inc. | Contact Us | Webmaster
Loki is a registered trademark of Loki Software, Inc.
OpenGL is a registered trademark of Silicon Graphics, Inc.
Note: This site currently only fully supports Netscape Navigator 4.x or Internet Explorer 4.x or better. We will be adding support for other browsers shortly. We apologize for any inconvenience.