Loki Software, Inc.
Overview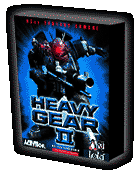 Feel the scream of lasers against cold steel and prepare for the clash of armor against armor -- Heavy Gear II for Linux is here!
Get ready for the ultimate in mech experiences: a thrilling combat adventure pitting robot against robot in the distant future is waiting for you. Pit squads of your best mechanized warriors against the enemy to save Terra Nova -- but sheer firepower won't be enough. Use your guile and wits to get behind enemy lines and use your resources to their fullest, before it's too late...
Heavy Gear II also adds some firsts for commercial Linux games:
First conversion from Direct3D to OpenGL®
First to support 3D audio effects using OpenAL
First to have joystick support using SDL
And best of all, it's for Linux -- the power of the future with the power of the future's operating system.
Minimum System Requirements
Linux Kernel
2.2.x and glibc-2.1
Processor
Pentium 233 MHz (with 3D acceleator card)
Video
Video card capable of 640x480 resolution
XFree86 version 3.3.5 or newer
16-bit color
CD-ROM
4x CD-ROM drive (600 KB/s sustained transfer rate)
RAM
64 MB required; 128 MB recommended
Sound
OSS compatible sound card
Hard disk
Minimum 450 MB free space
This product is not intended for use with any version of the Windows operating system.
This product supports 3D accelerators through OpenGL. Consult our GL Driver support page for the latest news on drivers and installation.

For more Heavy Gear II-related information, visit Dream Pod 9.

Products | Order | Support | Development | Press | News | About Loki
© 2000 Loki Software, Inc. | Contact Us | Webmaster
Loki is a registered trademark of Loki Software, Inc.
OpenGL is a registered trademark of Silicon Graphics, Inc.
Note: This site currently only fully supports Netscape Navigator 4.x or Internet Explorer 4.x or better. We will be adding support for other browsers shortly. We apologize for any inconvenience.